Founded in 2009, the Elecox company has recently reached its tenth birthday with very important growth in its sector. The company, specialized in the installation and maintenance of electrical installations as well as the integral maintenance of installations in large areas, emerged as a commitment from a team of professionals who felt the concern of contributing their knowledge to companies.
This group of professionals, led by its CEO Alfredo Merillas García-Solís, has acted during these years under criteria of honesty, maximum solvency, commitment to quality and rigor more absolute in every work done. This has led them to reach great relevance in the sector from their headquarters in San Sebastián de los Reyes (Madrid) and therefore they have done work for well-known chains of supermarkets, hypermarkets, unique buildings, promoters of shopping centers and for known chains of the retail
A diversified activity for a comprehensive service
Elecox has diversified its activities in areas such as electricity, fire protection, building air conditioning, public address and even voice and data, among others. Therefore, today they have an entire infrastructure that allows them to address comprehensive projects from the beginning to the end following the regulations and laws in force.
The company, which has a staff of highly qualified professionals, is a guarantee of quality in its services, both facilities and comprehensive maintenance of low and high voltage project facilities. Since its inception 10 years ago, the company has addressed important projects throughout the national territory offering a decisive and effective response to its customers.
This commitment to offer the highest quality standards can be verified in the different ISO classifications that the company has been achieving since its foundation. In 2015, the company achieved the ISO 9001: 2015 quality standard and just a few years later, in 2018, they granted it the ISO 14001: 2015, which catalogs it as a company aware of the environment in its activity. In addition, just released in 2020 the company has made public obtaining a new distinction in quality at work, such as the ISO 45001 standard for Occupational Health and Safety, guaranteeing the safety of its employees.
In short, Elecox has developed since its inception a constant struggle to ensure that its practices, its work and its response with customers and society were impeccable.
Elecox, a visionary company in the sector
Since its inception, Elecox has had a clear mission in the sector: to facilitate the development of all types of maintenance projects and electrical installations starting from the design of the project, the execution of the project, the legalization and the continuous maintenance once it has been completed. .
It was a niche market in which few companies had offered an efficient response to their customers, who had to look for different companies to carry out the different phases of the project. It is here that Elecox, with its CEO Alfredo Merillas García-Solís in command, found an opportunity to offer a global and comprehensive response to the needs of the companies.
In its vision, the company aspires to be a benchmark in its sector nationwide thanks to its ability to offer comprehensive services, its staff of qualified and experienced employees and an efficient and 100% infrastructure dedicated to offering an effective response to customers.
Their specialization in works in commercial areas and large businesses allows them to keep up to date with the changes in the needs of large companies and adapt to them to keep updated at all times. As a result of this effort, Elecox numbers during their first 10 years of life could not have been more positive.
We talk about more than 315 projects of electrical installations and maintenance in commercial surfaces, 214 projects of electrical maintenance in furniture stores or the textile sector or 260 projects of maintenance and development of electricity projects in supermarkets and hypermarkets throughout the country. Some vertigo numbers that from Elecox want to continue improving every year to become the leading company nationwide thanks to their specialization.
The speed of response and quality, the most valued by their customers
There are many efforts that any company can make to meet the needs of customers, but since Elecox they have clearly opted to offer a quick response to their needs, since they are aware that the deadlines in processes of opening or reforming Commercial establishments are very strict.
Similarly, the quality of their projects from initial design to post-execution maintenance allows them to demonstrate to companies their involvement with each client and the level of service they offer. And it is that the company has turned these values ​​into its sign of distinction.
In addition, in these 10 years of intense work on each project, the company has shown that honesty with projects and honesty are part of its DNA. For this, they offer 100% personalized treatment with each client from the minute through the different means of contact that they put at their service (e-mail, telephone, etc.).
Each development of an installation is governed by criteria of speed in response or quality, but acting under current law thanks to the ISO 9001: 2015 quality standard that guarantees 100% safe assembly and maintenance both in electrical installation projects such as air conditioning and fire protection.
From Elecox they are hopeful with their growth prospects in the near future thanks to more and more projects knocking on their doors year after year. Recent major projects such as the electrical connections of the recently opened Lagoh Shopping Center, the largest shopping center in Andalusia, are only a sample of the company's projects' scope. And the development of work in progress Vialia in Vigo and the Way Commercial Park in Dos Hermanas-Sevilla.
But who can offer us more answers about the growth of Elecox and its tenth anniversary is its CEO, Alfredo Merillas García-Solís, to whom we have conducted an interesting interview.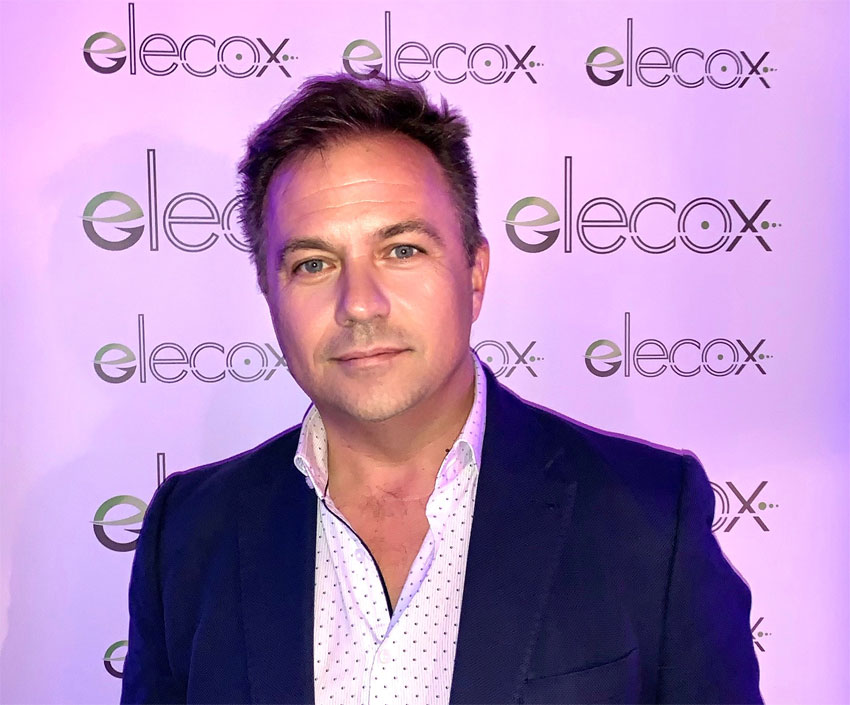 P. Elecox celebrates its 10th anniversary this year. How has the company's history developed so far?
R. Despite starting our journey in 2009, in one of the worst economic moments of our country, the company has not only been growing in a sustainable way but has also expanded its business lines, especially in the Integral Maintenance of Buildings
P. What was the idea that gave rise to the company, why did they focus on the creation of Elecox?
A. As a continuation of the trajectory of professionals in the sector who, in a convulsive moment, decided to undertake a new adventure to continue their growth and expand it to the business environment.
P. Its activity focuses on low and high voltage electrical installations and integral building maintenance. What qualities define each one of them and what kind of companies are they targeting?
A. What defines us is our speed of response, our professional solvency, competitive prices and honesty to cover the business lines we have. Especially aimed at companies in the Retail and public sector sector, which is where we feel most comfortable, but without neglecting any new business opportunity.
P. At the tenth anniversary of Elecox, what do you think could have been done better?
A. I prefer to consider what we can improve from now on and not where we could go wrong. I think you have to think positively, but with self-criticism.
P. Thomas Paine once said, the harder the problem, the more glorious the triumph will be. What have been the biggest challenges for Elecox in these years?
A. The biggest challenges were in the early years, which were undoubtedly the most complicated. Two years ago we made a qualitative leap with a significant increase in the workforce in line with the needs of the new business lines that we "started", as is the (in the area) of the integral maintenance of large surfaces.
P. Customers and their needs change, how does Elecox adapt to that evolution?
A. We blend in with them and we want to be treated as a part of their company. That allows us to evolve in parallel.
P. What are the objectives of Elecox for the coming years?
A. Now we have the most important goal of all that is the consolidation of billing and customers and the expansion of new business lines in the medium term.